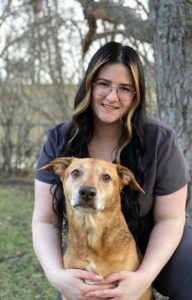 Meet our new team member – Mishai!
Mishai recently joined our team as an Administrative Assistant/Receptionist. She was born and raised in remote Northern Manitoba, where her love of animals and nature began, surrounded by the beauty of the Canadian shield. This passion has given her experience with over 20 different animal species! In 2011 Mishai adopted her beloved Rhodesian Ridgeback, Sieka. Mishai has quickly become a wonderful and integral part of the team at Seasons, and we look forward to introducing her to each of our wonderful clients!
Should you be concerned about insect bites and stings!? Teddy and his swollen paw say yes! Let's find out why!
Insect Bites and Stings
FROM DR. BRONWYN CHISHOLM
The immune system as an incredible and complex entity, and today we'll discuss the branch triggered by the venom of spider bites or bee/wasp stings, something we see quite a bit this time of year. This type of allergic reaction is a histamine reaction, and so it causes dramatic swelling, itchiness, redness, and in its extreme form, an anaphylactic reaction. As you can see in the photos of Little Teddy, the swelling can be very dramatic. Teddy was stung on his paw, and was a very sore little guy. His wonderful owner brought him in for treatment quickly and we were able to get the reaction under
control!

For mild to moderate reactions, these can sometimes be managed at home using 25mg QuickDissolve oral tables of Benadryl (Diphenhydramine).
Example: 25kg dog x 2mg/kg = 50mg Benadryl. You'll give two, 25mg tablets.
Example: 6kg cat x 2mg/kg = 12mg Benadryl. You'll give ½ of a 25mg tablet.
The dose for both cats and dogs is 2mg per kg (~1mg per pound) of body weight. This dose can be repeated twice 8 hours apart. How to calculate the dose: Your pets weight (in kg) x 2mg/kg = _____ mg Benadryl. If your pet is lethargic, vomiting, has developed diarrhea, and/or
is showing signs of facial swelling, an anaphylactic reaction is starting. Much more powerful injectable medications will need to be used to treat this reaction, so head to your closest vet clinic!
Want to be in on the monthly trivia? Please watch your mail for our printed newsletter that comes right to your home! Then, be the first to call with the right answer!