By Drs. Leigh & Bronwyn Chisholm
Dental health is an important component of how long and healthy a life our beloved pets will lead. Periodontal disease, which affects 80% of dogs, begins hidden just under the gum line in the "sulcus". The tartar you can see on the teeth also creeps down the root, destroying its attachment to the jaw. We can see obvious symptoms: lots of tartar, bright pink/red gums, and bad breath. What we don't see is the constant showering of bacteria into the blood stream – bacteria that can settle out on the heart valves or kidneys leading to significant, and sometimes irreversible damage.
Cats get periodontal disease and also suffer from resorptive lesions. We can see pink spots on the teeth, beneath which the body has gotten confused and is painfully destroying the tooth.
Dental treatments take care of a range of things: the obvious removal of infection, painful teeth (pain is always a component of dental disease, even if a pet doesn't stop eating), and nice fresh breath, but it also protects the heart and kidneys. These widespread benefits of good oral hygiene are the reason why it has such a positive impact on our pet's living their longest healthiest life.
February is Dental Health Month!
10% off Dental Cleanings and Surgeries (excluding medications)
Promotion valid from Feb. 1-28th
To qualify, must have a complimentary dental exam at Seasons Veterinary Clinic to ensure a tailored treatment plan and estimates, as well as the correct amount of time allotted for the procedure
1 rescheduling is permitted within the promotion, however, subsequent rescheduling would not have the promotion applied
Annual Spring promo!
From March 1st-June 1st, receive a complimentary wellness exam with the purchase of a Snap 4DX test + 6 months of Tick/Heartworm prevention
More details available on our website at: (https://seasonsvetclinic.com/promotions/)
The beautiful Oakley is our feature fella of the month! Oakley is a very handsome Great Pyrenees, a breed known for being incredibly powerful and effective as a working dog guarding sheep and goat flocks. With their striking white coat, they are a self-possessed, calm dog, devoted to their families: whatever they are guardians over. As vets, we can attest to their stoic personalities and overall gentleness despite their stature and strength. Dr. Leigh has a very special soft spot for these impressive beauties!
Here is what Oakley's people have to say about him:
If Oakley could talk , he would say "Stop and smell the flowers and be kind to all." He is kind, gentle, very stubborn, aware of his surroundings and will protect his sheep aka family members. Must love furry clothes, slimy matter and loud music (barking).
Congratulations to Marshmallow and his family for winning our November trivia! We hope they enjoyed their treat on us!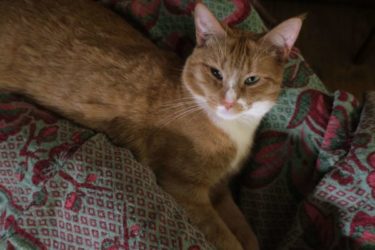 Want to be in on the monthly trivia? Please watch your mail for our printed newsletter that comes right to your home! Then, be the first to call with the right answer!