TICK PREVENTION: WHAT IS NEXGARD?
FROM DR. BRONWYN CHISHOLM
With the sudden arrival of beautiful spring weather, ticks are on the move again!
At Seasons, our most commonly used tick preventative is "Nexgard" because of its effectiveness against Ticks, and how incredibly safe it is. This month, I wanted to provide a brief overview of how it works: Nexgard's active ingredient is 'Afoxolaner', in the isoxazoline family. What is amazing about these compounds is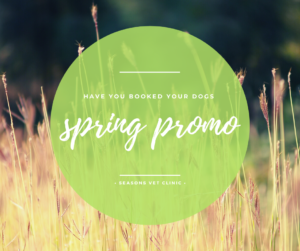 how incredibly specific they are in what they target: they localize their activity to sites in the nervous system of ticks that don't exist in a dog's body.
There are quite a few differences in the nervous system of a tick versus a mammal (no surprise there!) so these differences have been capitalized on to produce a product safe in dogs, but toxic to ticks. Nexgard comes as a chew, so after a dog consumes it, the Afoxolaner is absorbed by the pet and circulates in the blood stream for about 1 month, before breaking down. If a tick bites our dogs, they consume a small amount of the pet's blood, and the afoxolaner in the dog's blood kills the ticks almost immediately.
An amazing feat of science to develop something that is toxic to one species, and simply a yummy treat to another!
Lisa & Nick were the lucky winner of our Beat the Heat Pet Prize Giveaway!
Follow us on social media to hear about upcoming contests and promotions!
TRIVIA CORNER!
Want to be in on the monthly trivia? Please watch your mail for our printed newsletter that comes right to your home! Then, be the first to call with the right answer!